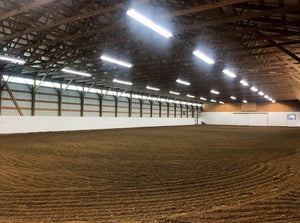 60' X 160' Well Lit Indoor Arena for Hourly Rental
Easily Accessible Driveway and turnaround for trailers 
Bathroom, grooming stall and stadium jumps are all available inside for use. 

Outside trainers with proof of insurance are welcome. 
* By making this purchase you agree you have read and agree to Terms of Service regarding weather cancelations/refunds/and Covid19 precautions and farm rules. Disclaimer/NYS Inherent Risk Laws in effect.
For More info and to schedule your time please contact Deana (585)362-7996
Discounts for groups of multiple riders